Clients in the News – September 2013
• The Bridge to Integrated Marketing and Fundraising Conference always gives us the opportunity to soak up lots of insights and information from our friends and colleagues in the industry. And we're proud to report that Avalon staff and clients were out in force at this year's Bridge. Galapagos Conservancy President Johannah Barry presented an inspiring keynote; Laura Connors, Deputy VP of Membership for the National Parks Conservation Association, Nancy Sturm, former Senior Director of Development for the League of Women Voters, now Managing Director of Development at Common Cause, and our VP of Analytics, Rick Malchow wowed a full house with their America's Next Top Model presentation on how data modeling improves results; and our VP of Marketing, Mark Grayer and Fundraising Program Manager Bill Tucker led a session called Political Fundraising/Engagement…When You are NOT Running for President. You can watch Johannah Barry's keynote address, and all of the other presentations from this year's Bridge here.
• The American Horticultural Society holds its 20th annual Gala on September 21 – promising to be another spectacular evening at AHS's gorgeous River Farm in Virginia. As described on AHS's website: To benefit the stewardship of River Farm and the AHS's outreach programs, this year's gala "Moonlight in the Garden" will include a formal dinner, silent auction, online auction, live jazz, and moonlit strolls through the gardens. Avalon client, U.S. Senator Mark Warner and his wife Lisa Collis are the honorary chairs of the event. For more information and tickets, visit the AHS website.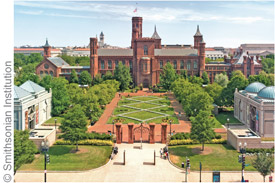 • The Smithsonian museums like the National Museum of the American Indian are free every day, but to share that spirit, Smithsonian Magazine is encouraging museums all over the country to participate in Museum Day Live! This year's Museum Day Live! is on Saturday, September 28, when participating museums charge no admission to anyone presenting a Museum Day Live! ticket. To learn more about this fantastic event, and to get your free ticket, visit Smithsonian Magazine's website.
• In other museum news, the National Museum of Women in the Arts is planning three new exciting and groundbreaking exhibitions this fall/winter. First up is Wanderer: Travel Prints by Ellen Day Hale, opening October 4 – Drawn from NMWA's collection, this exhibition presents Hale's exquisitely detailed etchings of the cities, landscapes, and people she encountered on her journeys. Next is Equal Exposure: Anita Steckel's Fight Against Censorship, opening November 4 – Steckel (1930–2012), a feminist American artist, countered the art-world establishment through depictions of heterosexual female desire…Personal papers, photographs, and art… illustrate her boundary-pushing art and activism. And finally, the exhibition we've been waiting for: "Workt by Hand": Hidden Labor and Historical Quilts, at the Museum beginning December 20 – Over time, quilts have been revered as nostalgic emblems of the past, dismissed as women's work, and hailed as examples of American ingenuity. This exhibition breaks new ground by examining quilts through the lens of contemporary feminist theory. Visit the Museum's website for more details about these exhibitions. And don't forget that the first Sunday of every month is Community Day at NMWA – no admission charge, so enjoy the Museum and its exhibitions for free!
• Running now through February 2, 2014, the National Geographic's free photography exhibition, Lions & Tigers & Bears: Through the Lens with National Geographic, is a tremendous opportunity to see nature photography at its finest. In the words of National Geographic's description of the exhibition, Based on multi-year coverage by National Geographic photographers Michael Nichols, Steve Winter, and Paul Nicklen, these images attest to the wildness and beauty of lions and tigers and bears. More information is available here.
• Farm Sanctuary recently held its annual Farm Animal Care Conference at its sanctuary in Watkins Glen, New York – giving participants an up-close look into what it takes to start and operate a farm animal sanctuary. There were interactive seminars on animal care, program administration, educational outreach, and fundraising, with attendees having the opportunity to experience some of the hands-on work involved in the everyday operations of a sanctuary. To read more, and to find out about more Farm Sanctuary events, visit the FS website.