20 Things about Avalon — Earth Day Edition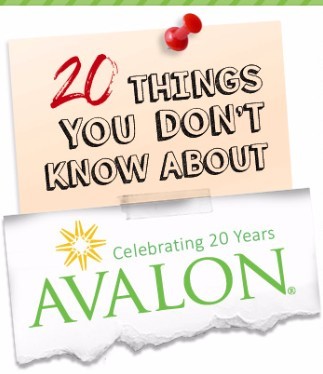 One person's trash is another's treasure: Avalon holds an annual Freecycle event to find new homes for old or unwanted items.
Avalon recycles! We provide recycling bins for every office, recycle all toner/ink cartridges, and use recycled paper.
Avalon's office kitchen is also stocked with real dishes and silverware to reduce waste, and we run the dishwasher only when full.
We incorporated recycled materials — glass, doors/partitions, light fixtures, reclaimed wood tables, and more — into our new office space.
For the last two years, we've been sending digital holiday cards and event invitations instead of paper.
We print only when necessary and file electronically when possible.
We are committed to recycling electronics. Since 2005, we have recycled 13 laptops, 26 Blackberries, and 45 office phones.
Our offices employ motion-sensor lights to reduce electricity when rooms are empty.
48% of Avalon staff take public transportation, bike, or walk to work.
Most of our staff have Energy Star appliances, low-flow toilets, and water-conserving shower heads in their homes.
7% of Avalon staff drive hybrid cars.
21% of staff telecommute at least one day a week, reducing the number of cars on the road.
29% of staff grow their own food and/or compost.
17% of our staff are vegetarians or vegans.
48% of staff buy locally sourced food.
62% of staff use reusable shopping bags.
We manage data and lists for our clients with a focus on reducing duplicate, unwanted, and undeliverable mail.
We work with designers and production partners to develop packages for our clients that create the least amount of waste possible, avoid toxic materials, and are recyclable.
We strive to procure, use, and recover paper in a manner that helps ensure sustainable forests and protects other natural resources.
We proudly represent a number of conservation-minded organizations fighting for environmental protections, such as National Parks Conservation Association, The Trustees, Farm Sanctuary, American Horticultural Society, Friends of the National Zoo, Galapagos Conservancy, Monterey Bay Aquarium, National Aquarium, National Geographic Society, Rainforest Action Network, and Yellowstone Forever.