National Museum of the American Indian
Acquiring More Members with Less Risk
The National Museum of the American Indian's donor acquisition performance had suffered since the recession, and the two formerly strong co-control packages were starting to stumble. Avalon was tasked with finding a new and creative way to attract donors in a more cost-effective manner.
We developed a package that touched on the greater mission of the Museum, referencing common misconceptions about Native American cultures. The package contained a four-page letter, a seven-question "Cultural Stereotypes" survey, four four-color 3x8 bookmarks, and an RAE, all in a unique 6x9 carrier. Faux handwriting within the letter gave the package an extra sense of personalization, while the survey was a great way to engage prospects on dispelling stereotypes. The beautiful full-color bookmarks – with pictures of influential Native Americans, along with stories of how their lives impacted their communities and the world – really made the package stand out.
We mailed to a mix of outside lists and lapsed donors from 2000 to 2010, to tremendous success. The new package outperformed the old co-controls in every metric. It had a 50% higher response rate than the co-controls and one of the highest response rates for NMAI's direct mail acquisition in more than four years. The strong average gift was also 10% higher than controls, and the highest average gift for direct mail acquisition for more than a year. And, despite the additional new package costs, the Dispelling Stereotypes package cost 9% less than the co-controls, which led to an incredible 56% lower investment per donor than the co-controls. This is the lowest cost/donor in more than four years.
All in all, this package more than achieved its goal of bringing in substantially more new donors at significantly lower costs.
6 x 9 carrier with standard left window, and front and back teasers
Four-page letter referencing common misconceptions about Native cultures
Four, four-color 3 x 8 bookmarks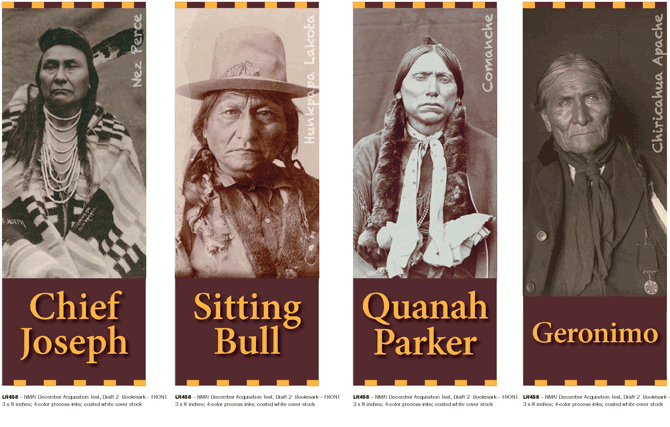 "Cultural Stereotypes" seven-question survey and reply device