Thank YOU! #Bridge14: Another Successful Conference
The 9th Annual Bridge to Integrated Marketing and Fundraising Conference was a resounding success! The conference, which took place July 9-11, was sold-out by noon on the first day – and #Bridge14 produced over 3,000 tweets (up from 2,000 in 2013). Beyond the numbers, the conference went off without a hitch and was full of insightful speeches, cutting-edge presentations, and valuable networking opportunities.
Check out the buzz we are seeing online: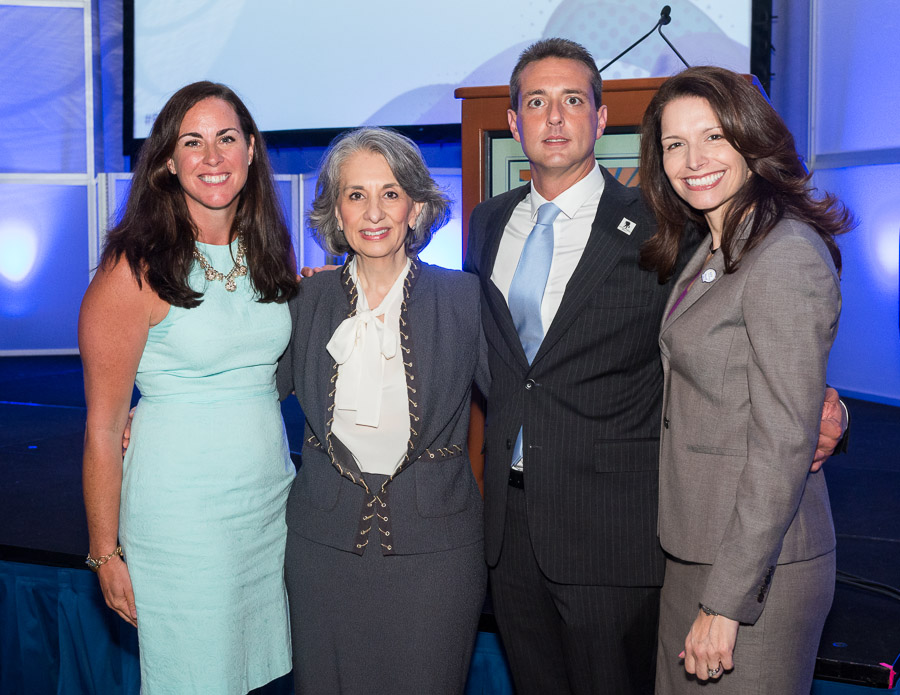 First and foremost, I want to thank my wonderful co-chair, Nadine Gabai-Botero of Focus Fundraising, for sharing this incredible experience with me and for working tirelessly to put together a phenomenal line-up of keynote speakers and an overall fantastic conference. Nadine and I are especially grateful for the 100+ volunteers, staff, and sponsors who dedicated their time and resources, working day in and day out to execute this successful and cohesive event.
Photo: (from left) Allison Porter, Donna Tschiffely, Steve Nardizzi, and Nadine Gabai-Botero.
Second, I want to acknowledge our incredible keynote speakers. Steve Nardizzi, executive director at Wounded Warrior Project, kicked off the conference with a poignant and powerful speech against charity watchdogs. Steve is leading the charge to "answer questions about ethics and ratios head on by explaining your strategy to donors and clarify why these ratings do not show the whole picture." Dr. Janet Lapp, honored by Toastmasters International as a top speaker worldwide, urged each of us, as individuals, to discover our drive and pursue it energetically. And, Craig Kielburger, our closing speaker and co-founder of Free the Children, spoke eloquently about "minga," or coming together for the collective good. Craig delivered the important message that one person can make a huge impact, sharing what Mother Teresa once said to him: "we cannot do great things… we can do small things with great love." I could not have asked for a more inspiring line-up.
Third, I want to express appreciation to my Avalon colleagues and clients for their Bridge participation. In addition to my role as co-chair, Jackie Biancolli served as a member of the Bridge Conference marketing committee, and Jamie Natelson served as a member of the DMAW MAXI Awards committee, which hosted its annual event on the eve of the conference. During the conference, not only did Avalon send a delegation of attendees, but several of our vice-presidents and clients were also active presenters. If you missed us, you can watch Avalon's presentations here:
Direct Marketing 101 – Online Fundraising – Bridge 14
from
Avalon Consulting
Direct Marketing 101 – Creative – Bridge 2014
from
Avalon Consulting
Key Performance Trends Found Only in Donor File Analysis Data – Bridge 2014
from
Avalon Consulting
I am honored to have had the opportunity to co-chair this inspiring and educational event. Thank you for joining us at Bridge 2014!
P.S. Avalon's Bridge delegation has documented this list of important takeaways for the benefit of anyone who could not attend the conference or who wants to share notes. We look forward to discussing our – and your – #Bridge14 insights the next time we see you.