This month's case studies are MAXI award winners. First up, an innovative package from the National Museum of African American History and Culture, followed by a hugely successful telemarketing campaign with the Friends of the Smithsonian.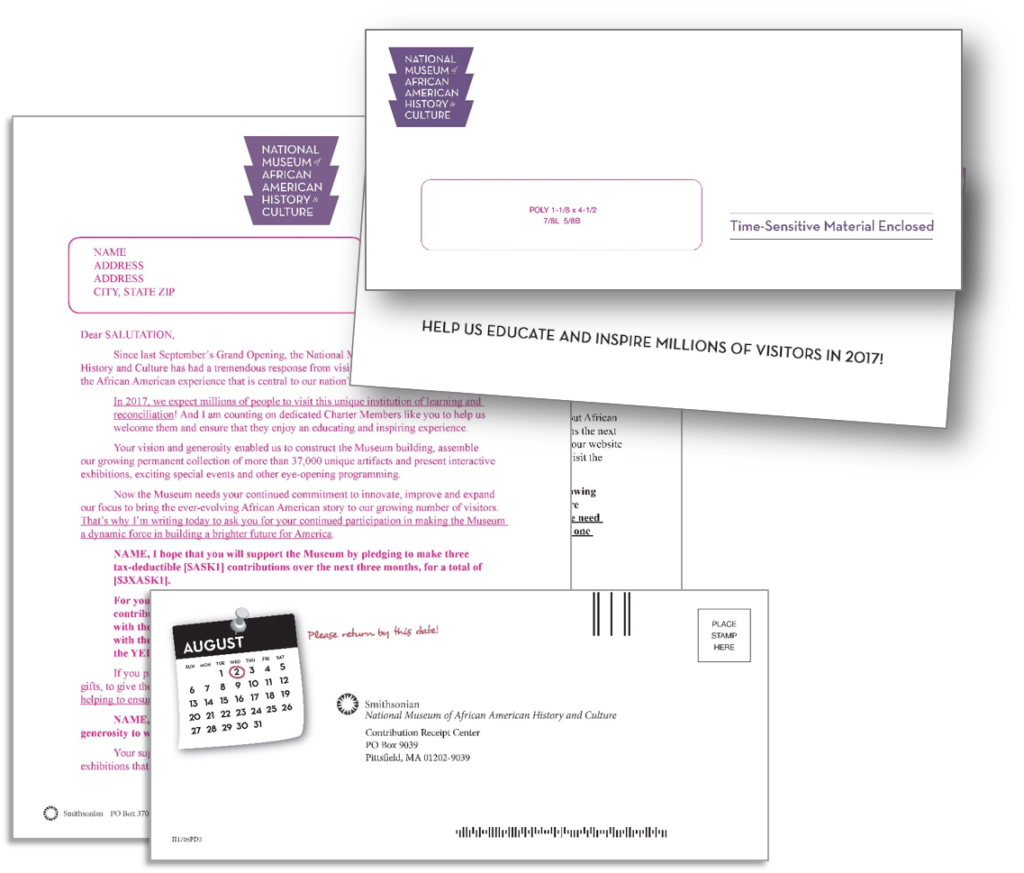 National Museum of African American History and Culture:
Three-envelope Direct Mail Appeal
With fewer than 100 days before the grand opening of the National Museum of African American History and Culture (NMAAHC) in Washington, DC, excitement was mounting about this newest Smithsonian museum, and Avalon and NMAAHC sought to capitalize on that energy and interest.
CHALLENGE: As the Museum opening approached, we needed to find a way to creatively go to the well once again, asking Charter Members to help get us across the finish line and raise the funds necessary to complete construction and finalize exhibitions.
STRATEGY AND AUDIENCE: We called this campaign the 100 Day Fund, reminding donors with an outer envelope teaser that the "Museum opens in less than 100 days." With revamped art and fresh copy, we mailed this package in July 2016 to capitalize on the pending opening in September.
To compensate for the larger-than-usual ask amount (3$HPC), we asked donors to make their gifts in three installments over a period of three months—the three months remaining before the Museum's grand opening. We provided three color-coded reply forms (one sheet/three-up with perforations) and three corresponding color-coded reply envelopes to facilitate response. Each reply envelope was addressed directly to the Museum's founding director, Lonnie Bunch, who signed the letter.
Each reply form included screened images illustrating the phases of construction, from groundbreaking to completion. A color insert thanked the donor and described the final push, illustrated by three images: installation of a signature object (the biplane used to train the Tuskegee Airmen during World War II) and two artists' renderings of the Museum's interior.
We mailed to current and lapsed Charter Members ($25 and up).
RESULTS: This appeal was a tremendous success, exceeding the previous year's performance by 54%. We increased our mail volume, which increased costs, but the cost/M decreased 6% because we mailed more. Revenue/M increased 14%, and 50% more gifts came in on this three-envelope approach.
Friends of the Smithsonian: Telemarketing Appeal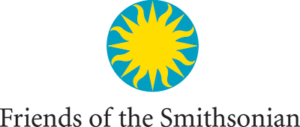 Like many organizations, the Friends of the Smithsonian (FoS) program was struggling to make telemarketing appeals an effective source of net revenue, in light of decreasing contact rates and high costs.
OBJECTIVE: Avalon's objective was to help FoS call smarter, while lowering costs, to reinvigorate this channel as a reliable source of net revenue.
STRATEGY AND AUDIENCE: While many organizations use models to mail smarter, models can also be used to call smarter—which was Avalon's approach with FOS's flagging telemarketing appeal. We modeled the lead pool to highlight prospects most likely to give to a telemarketing appeal, and then the calling firm was directed to only call into the top tiers of the model. In this way, we pared down the call recipient file to the most responsive, which dramatically cut costs. Our audience was made up of current members ($60+) and donors ($15+), as well as some lapsed members (up to five years lapsed) and lapsed donors (up to two years lapsed).
RESULTS: The resulting campaign produced more than 2.5 times the net revenue of the previous telemarketing appeal—despite making only 28% of the contacts! The total campaign was 74% less expensive than the previous campaign, so we were able to put the saved expenses into maximizing other channels. Overall, the change in strategy proved the game-changing effectiveness of modeling—which can raise much more revenue while slashing costs. Modeling can be a great option for improving telemarketing outcomes!